From a new student commons in York to a mechatronics lab in Gettysburg, M&D's attention to detail makes each student's day a little better.
Stroll today through the student commons area inside the Governor George M. Leader Building of the York Campus of HACC, Central Pennsylvania's Community College – past the patterned glass and the Subway restaurant – and it might be hard to imagine how different the space was just a few years ago.
Where once students sat in chairs that lined a plain corridor, now they congregate in an innovative and environmentally friendly area.
From the cork ceiling down to the custom countertops made with recycled materials, the student commons today is a unique and welcoming place for students looking to get a bite and unwind, said Kathy Brickner, HACC's Executive Director of Business Affairs.
The site serves as a central hub of activity for a school where many students commute and need a place to call their own between classes.
"It's really quite a space now," Brickner said. "It's one of the pride points of our campus."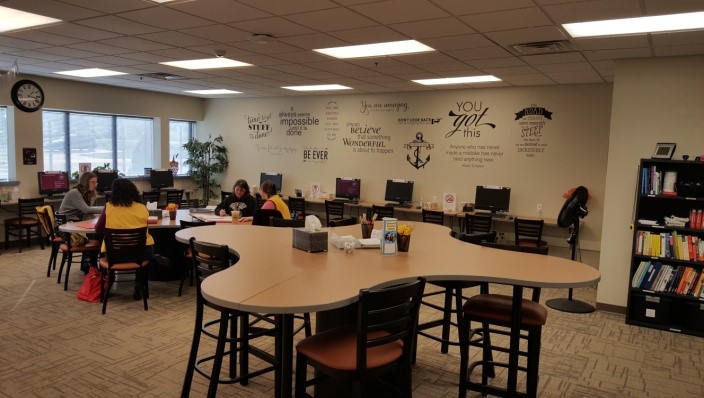 Advancing the vision for local education
In recent years, Murphy & Dittenhafer Architects has completed numerous projects on HACC's York and Gettysburg campuses.
The firm has designed everything from the student commons to a state-of-the-art mechatronics lab.
When a new collaborative opportunity arises, it's just another chance to connect with a client whose vision for local education M&D is proud to help advance.
"It makes things easy, and the work really enjoyable since those good relationships are already established," said Architect Ryan Shank. "When they give us a call, we get a chance to get the whole team back together."
'Every aspect of college life'
It was early 2014 when Murphy & Dittenhafer Architects first presented HACC with a space-utilization plan for the college library in the Governor George M. Leader Building. Those recommendations meshed with the college's strategic plan, and many of the proposed changes were made.
From there, a relationship grew.
In York, Murphy & Dittenhafer designed the college's new writing center. In Gettysburg, the firm turned a previously unoccupied space into a 2,900-square-foot, cutting-edge mechatronics lab, where students now learn how to diagnose and repair mechanical problems.
"Each job has been top-notch in terms of both the design and the people involved," Brickner said. "And in one way or another, Murphy & Dittenhafer has affected every aspect of college life."
Benefitting everyone involved
For Frank Dittenhafer, Founder and Principal at Murphy & Dittenhafer, the ongoing association with HACC is an opportunity to help improve the education environment in his native York County and beyond.
Each project is approached through the lens of what's most useful to local students. Over time, it's been rewarding to observe that evolving landscape and to continue to contribute, he said.
"There's this very transformational aspect of these projects that we're good at and we enjoy," he said. "Our long, positive relationship with HACC has allowed us to do that type of work to the benefit of everyone involved."
Thoughtful attention to detail
Murphy & Dittenhafer's latest project at HACC might seem somewhat less glamorous — the firm is updating the bathrooms in the Leader Building.
But it doesn't make it any less important to the firm. From hands-free dryers to a hook placed in just the right spot to hang a backpack, Murphy & Dittenhafer Architects is approaching a restroom redesign with the same thoughtful focus and attention to detail as with past projects.
"We don't think of it as just replacing plumbing fixtures," Dittenhafer said. "We think of it as making someone's day a little easier – in making lives better."
With each completed project, Murphy & Dittenhafer Architects is improving the community and pushing forward the college's fundamental goal, Brickner said. They're creating a place where students can prepare for future success.
"Murphy & Dittenhafer is helping to transform the lives of students. It's that simple," she said. "They're breathing life into the college's mission."